Can you make the logo bigger?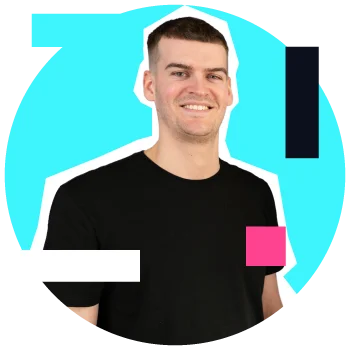 Jack Ogston 29th of June 2021
One of the questions our design team gets asked on a regular basis is something which, it turns out, sends shivers down the spines of designers around the globe.
"Can you make the logo bigger?"
What seems like a fairly simple request is a tricky question to field for designers because, frankly, they know what they're doing and they're doing what they do best; making websites look good and ensuring that they are easy to use.
A lot of thought, consideration and experience goes into designing a website, and we're pretty invested in them too; we want every design we put together to look the best it possibly can. So, to delve a little deeper into the reasoning behind it, we've put together a post that explains why website logos don't need to be big in order for your site to be effective.
1. Calls to action
When someone lands on your site, what is the first thing you want them to do? Make a booking? Buy a product? Get in touch with you? The answer to that initial question will rarely, if ever, be 'spend time looking at the logo'. In terms of priorities, your logo is pretty far down the list. It helps to confirm to the user that they're in the right place (providing they already know what your logo looks like), but for many people, visiting your site could be the first time they even see your brand. If you're making the logo bigger than buttons, instructions or need-to-know content, it can make the site difficult to use and frustrating for the user; calls to action, or whichever goals are specific to you, should be the priority.
2. Balance
There are so many elements that go into website design to get a site to look and perform as well as it can, whilst also taking into consideration the user experience. Your logo has to compete with other colours, white space, images and text on the website, and these things all have to come together to strike a balance that means the website is intuitive to use, whilst also giving weight to the more important elements. As soon as you start making the logo much bigger, it starts to throw everything else off balance and take up lots of space, elbowing more important components out of the way.
3. Your logo is not the same as your brand
You can't convey trust, tone or personality through your logo; that all comes from your wider brand identity. The logo combines with the rest of your website content, such as images and copy, to convey who you are and what you do. If you have low quality images and badly written content across your site, the size of the logo won't matter; your brand isn't going to be giving a good impression to potential customers.
4. Big brands use small logos
Brands like Nike and Apple both have huge websites with small logos. The first thing these two businesses want you to do when you're on their site is to buy something, so the most prominent features are what they're trying to sell at any given time. Take a look at the size of their logos compared to everything else on the homepage; they use their content and products to do the talking.
5. Emotional connection keeps people coming back
Repeat customers aren't coming back to you because of your logo. They may have decided to book initially because they liked the overall feel of your business, but the logo alone does not bring customers in. How you make your customers feel is so much more important. The spectacular food, kind customer service, or going the extra mile for the people who engage with your business is what sets you apart from the rest.
6. Your logo is not the most important thing about your business
Don't get us wrong, logo and branding is an essential part of any business and we understand wanting to show it off! Again, it's about finding that balance between wanting to showcase who you are, but also communicate what you do and why a potential customer should choose to book or shop with you. Creating that aforementioned balance between the elements of your website to give a clear indication of what your business is about is more important than letting your logo take centre stage.
Those are a few of the main reasons our design team don't like to make the logo too big. So, the short answer is yes, we can make your logo bigger if you absolutely must insist on it (you are the customer after all). But our design team really don't want to.